Breaking Up is Hard to Do
Yep, it's true. We broke up. Lacy scallops and I have temporarily separated. I left them on the desk, they were knocked to the floor, and one of our cats did something unspeakable on them. I don't have time to deal with this now. I'm going to frog them, wash the yarn, and start over at a later date.

In the meantime, let me introduce you to my new partner. Actually, this partner has been around for a while, but she has agreed to join me in the Amazing Lace. Here she is: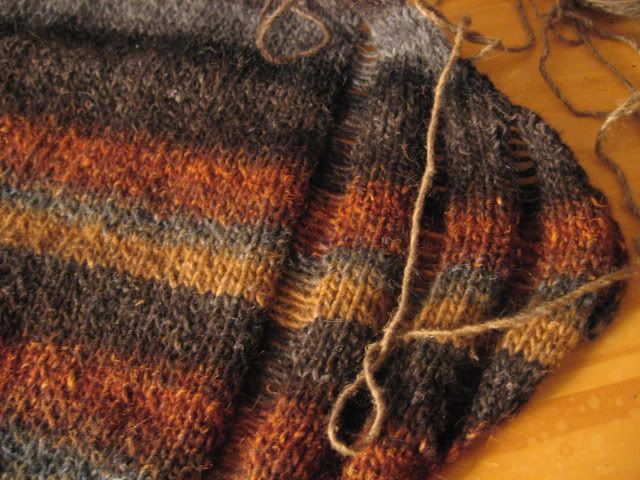 This is my Clapotis, done in Noro Silk Garden, colorway 47. This will join my Creatures of the Reef shawl in the Amazing Lace.
I will try to get daylight pictures at another time. We have been having thunderstorms since last night. Tons of rain, flooded roads, trees down - the whole nine yards.

The garden is loving this weather, even if I am not. I still have some flats of flowers to plant. It was too hot this week, and now it is way too wet. Supposed to rain tomorrow, too, and I have to work tomorrow night, but then I get four days off, so I'm hoping to get busy outside.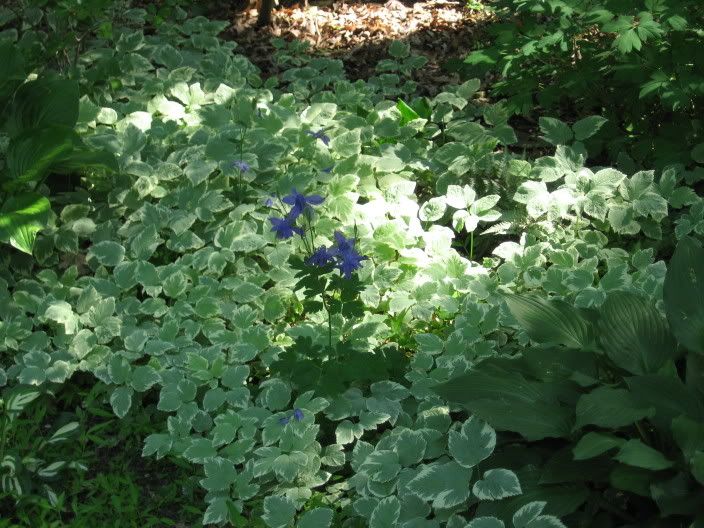 The pic on the left is my shade garden, the flower on the right is growing in one of my pots. I planted my window boxes, too. In the photo at the top of this entry is one of the windowboxes with Missy front and center, CJ on the right, and Muffy snoozing with her head up against CJ's butt. She is a sweet kitty, but not terribly bright.
The window boxes are a source of contention between our squirrels and me. The squirrels are enchanted with the nice, soft soil - a perfect place to store acorns, or so they think. I, however, want to grow impatiens. They dig up the impatiens and toss them overboard, and hide the acorns. I come along, toss the acorns out, and replant the impatiens. The way I see it, is they have my half-acre+, and the wooded area behind my house to plant acorns. I'm not budging on the windowboxes, or the pots either.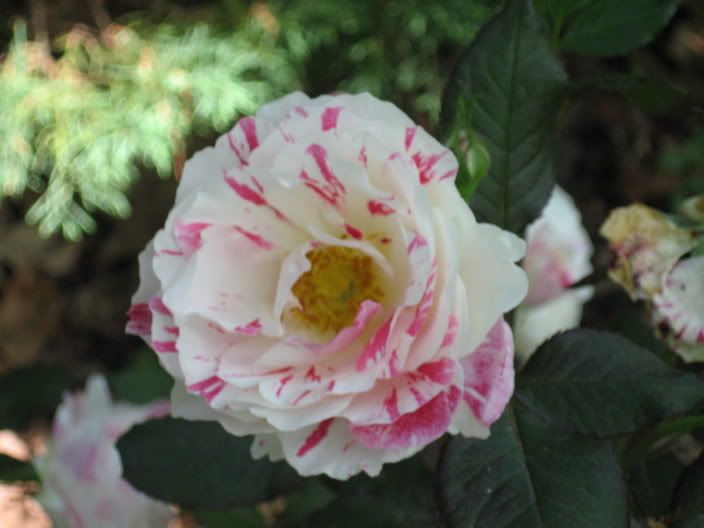 Has anyone noticed that I have not
only figured out how to upload
photos, but I can also get them where I want them? I'm so excited! I'm becoming a 21st century citizen! I want more technology! Bring it on! I love this. Digital camera now, who knows what next? The possibilities are endless. I'm doing pretty well for a technophobe, I think. Now I just have to learn how to program my DVD and VCR, and I'll be all set! Oh, yeah, I have to learn to resize my photos so I can use my free Flickr acct for more than 12 pictures every month.

I'll leave you with two more garden photos, one of a beautiful rose, "Scentimental" (yes, that's spelled right), and a blue Verbena, "superbena lilac blue".