Happy Birthday, Chris!
Today is my son Christopher's 28th birthday. Happy Birthday, Chris!
He is my second oldest, and I owe a lot of my front yard landscaping to him. He kept an eye on the house and his younger brothers after his father left a few years ago; which allowed me to go to school to get a degree and a better job. I hope he has many more happy birthdays after this one. Like most of us in this household, he is somewhat camera shy. I did my best to get a picture of him, but this is the best I could do.
Haven't made too much progress on Creatures since my last post. I spent this weekend studying for my NRP (Neonatal Resusitation Procedures) certification. I had an 8-hour certification class and test yesterday, and I'm happy to say I passed. That's a load off my mind, and adds to my employability in my specialty.
I did take some Creatures pictures today. I knitted this shawl tightly, on size 3 and 2's instead of the 4 and 3's called for in the pattern.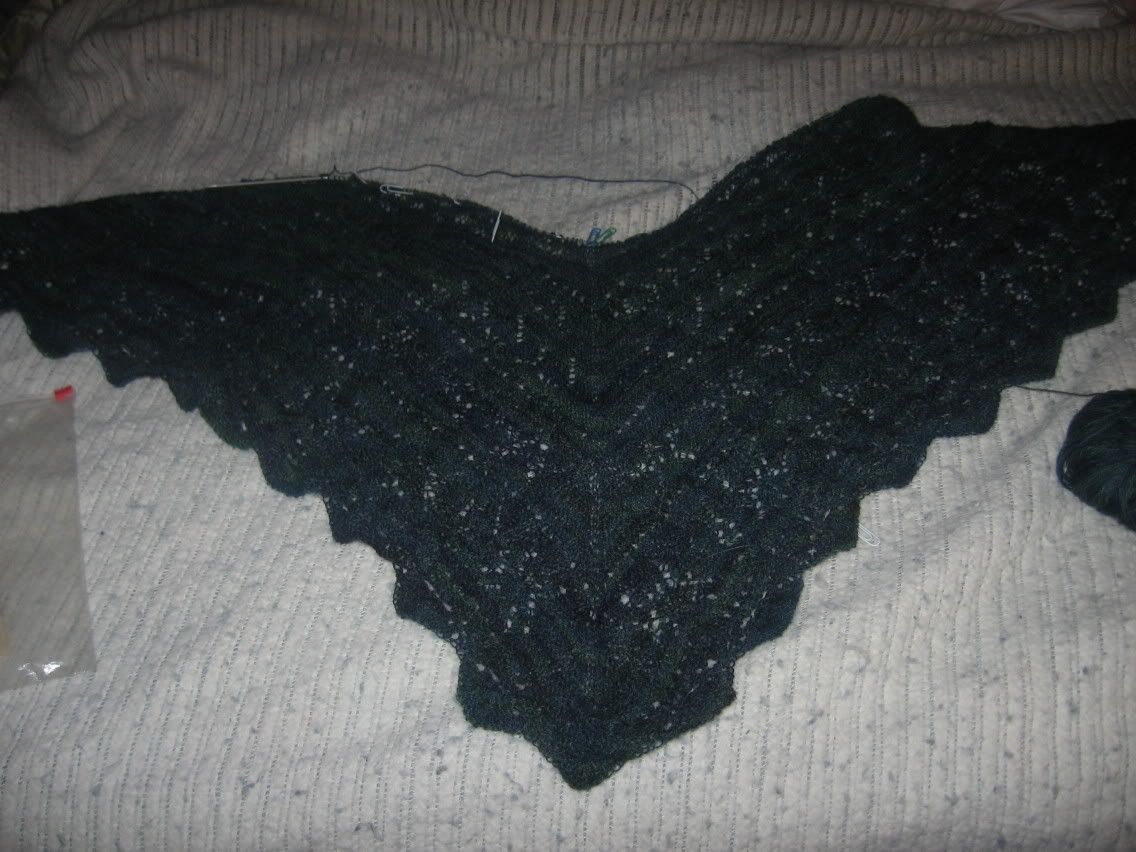 I wanted a slightly smaller shawl than the size given. I think I may have done too well in that department. I think I'm gonna have to block the hell out of this thing, or just accept that I have a shoulder shawl. I'm really pleased with the pattern and the color. I found it to be an easy knit, and I like the way you start out with a huge amount of stitches at the beginning, and decrease as you knit. I think that may be part of the problem with my unfinished Flower Basket shawl, aside from the fact I don't think navy is a good choice for this pattern - you start with only a few stitches, and work your way up to a zillion stitches at the end.
I think I prefer starting with a huge amount, and then at the end, when I want to move on to something else, wind up with just a few stitches. Designers, take note! The colors in this yarn have given me exactly the effect I was looking for it, and I'm so happy with that. The yarn was from ebay - Twinkletoes light, in the colorway Ocean. A perfect match, I think.
And, in other news, our silly cat report:
Did you ever wonder what your cats do at night?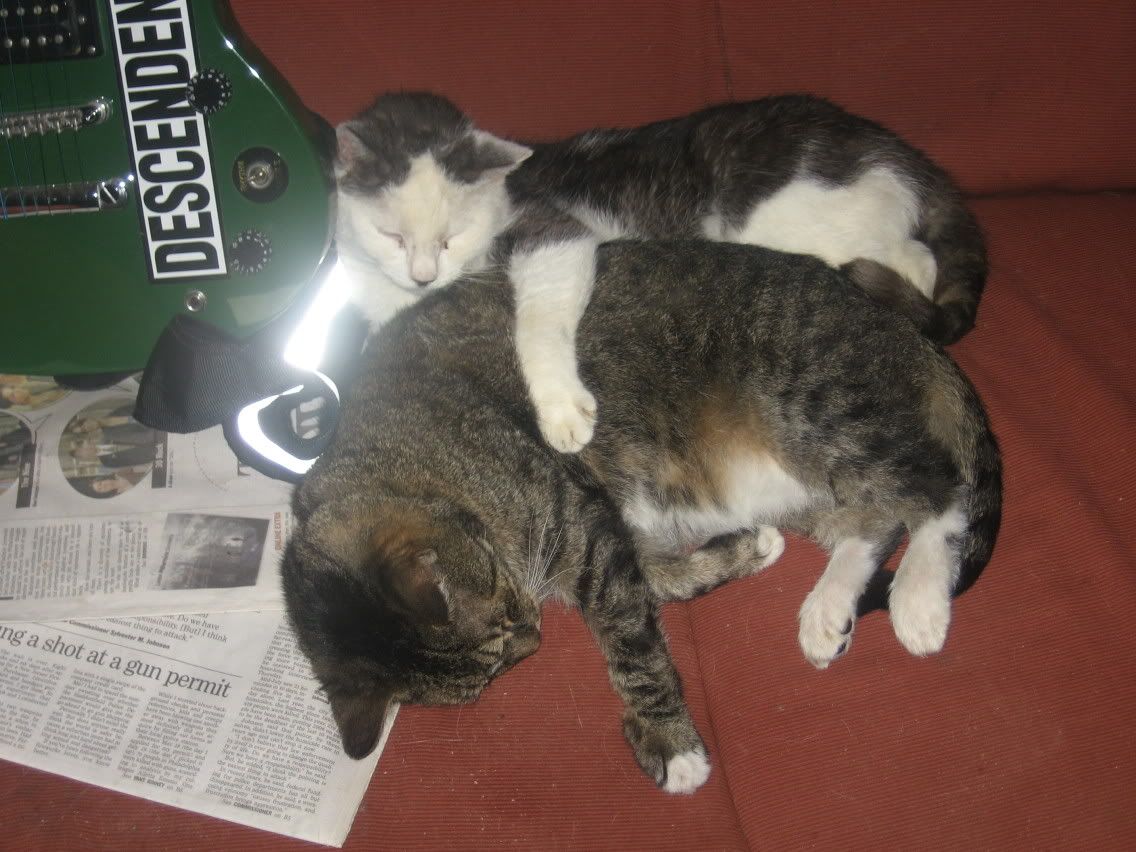 Catch mice, raid the cabinets, move furniture, whatever? I found out what a couple of mine have been up to: they're learning to play the guitar! We caught Frankie and Fuzzybuns passed out on the couch after a hard night jamming on Jonathan's guitar. Looks like they were in the catnip.
Today was blistering. 100 degrees. Tomorrow's more of the same. I know it's summer, but I would love to live somewhere with more moderate summer temps. Is there even a place like that? According to the weather reporters, it's been hot everywhere lately. Our power keeps going off, I've been saving this post as a draft every few sentences, so I don't have a repeat of my last post, wherein I lost the whole darn thing.